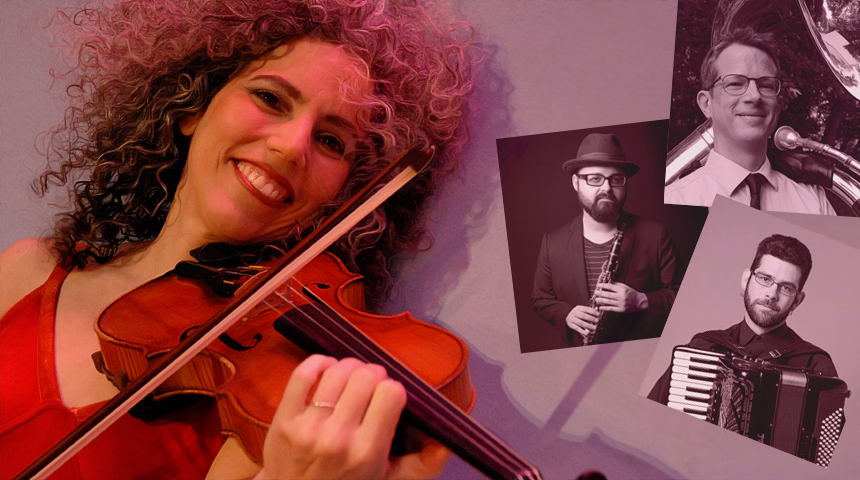 Alicia Svigals' Klezmer Fiddle Express (USA) feat. Michael Winograd, Patrick Farrell & Don Godwin
Friday, 9th March / 7.30 pm
Kulturforum Große Halle
Advance sales: 27 Euros / 21,60 Euros concs.
On the door: 24 Euros / 19,20 Euros concs.
New York´s Grand Dame of Klezmer
Headspinning could describe Alicia Svigals' performances. The violinist and composer was co-founder of the Klezmatics, the legendary band that triggered the US Klezmer revival in the 80s. For nearly two decades she has explored the roots and variations of Jewish violin traditions around the globe. The results are seen in a highly individual style, somewhere between "old fiddle style, clarinet technique, and this sort of Greek-Turkish timbre - [... it's] half reconstructed, -half invented". Together with clarinetist Michael Winograd, a regular at the Klezmer Festival Fürth, Patrick Farrell on accordeon and Don Godwin playing Tuba, this year's festival is guaranteed an extraordinary opening performance!
Alicia Svigals violine
Michael Winograd clarinet
Patrick Farrell accordeon
Don Godwin tuba
www.aliciasvigals.com
www.michaelwinograd.net
www.pattysounds.com