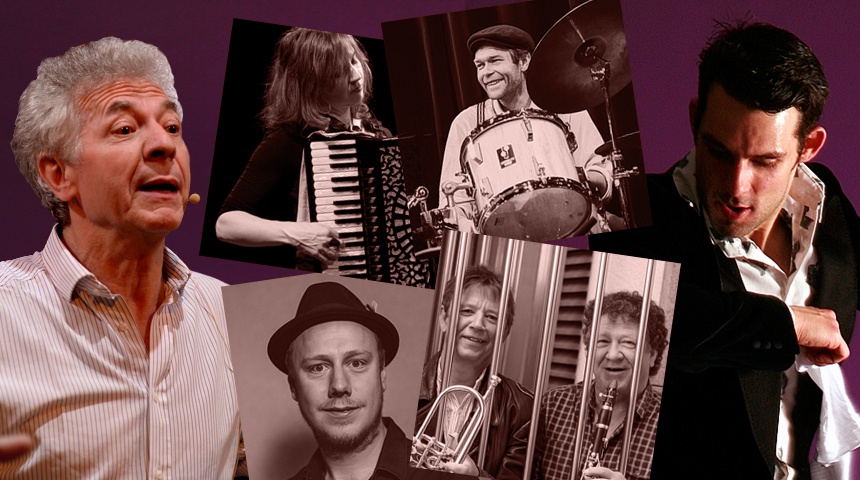 Boarisch-Jiddisches Danzl-Hoyz
Saturday 10th March / 7.30pm
Kulturforum Große Halle
Advance sales: 27 Euros / 21,60 Euros concs.
On the door: 24 Euros / 19,20 Euros concs.
No seating!
Oans, zwoa, drei... Eyns, zwey, drai…
Dancemasters: Michael Well (Germany) and Guy Schalom (GB)
Live-Music: Well-Buam (Bavaria) and "Yiddish Dance Trio Berlin" (Germany)
Our first Bavarian-Yiddish Danzl-Hoyz in 2016 was a huge success. So much so, it just had to be repeated. After a short introduction into Bavarian and Jewish traditional dance styles, the dance styles became intertwined and the evening turned into a wild, intercultural mixture of traditions. It didn't matter whether you appeared in a Bavarian dirndl, lederhosen, a summer dress or a smart suit, everyone had a fantastic time and was dripping with perspiration at the end!
This year's second round is led by two experienced dancing masters. Both teach traditional dance and embody the spirit of their cultures. So why wait? Neither previous experience nor a dance partner is required - just come and dance!
Well-Buam:
Michael Well MC, baritone and tuba
Karl Well clarinet & sound
Heini Zapf clarinet
Franz Eimer harp and chain smoker
Max Lang accordion & beer drinker
Christoph Well trumpet


www.well-brueder.de
www.guyschalom.com
www. sannemoericke.weebly.com
www.emilgoldschmidt.com