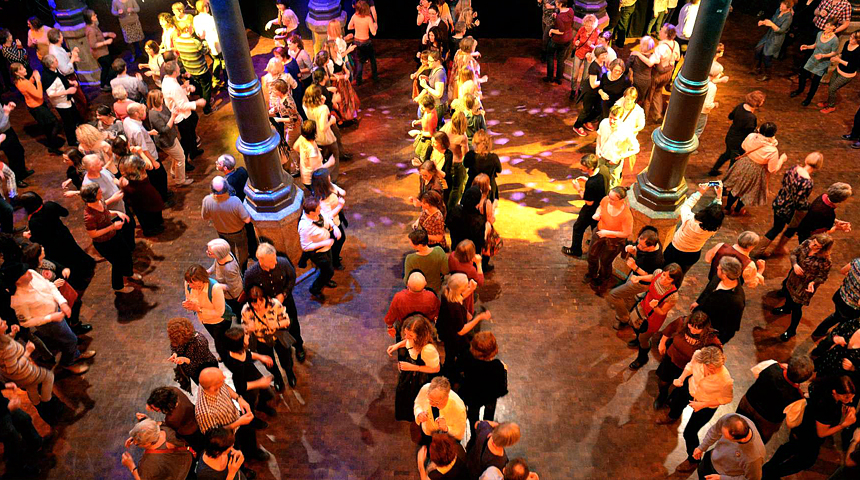 Boarisch-Jiddisches Danzl-Hoyz (USA/Germany)
Saturday, 7th March / 7.30 pm
Kulturforum Fürth
Advance sales 28 Euros / 22,40 Euro concs. // On the door 25 Euros / 20 Euros concs.
The total cost of tickets may vary slightly from those published due to small additional charges.
no seating!
A Ball for Bavarian and Yiddish folk dance
Let's "danzl" again!
It has become a festival tradition: Dance instructors Steven Weintraub (Yiddish Dance) and Michael Well (Bavarian Dance) are teaching their respective dance styles in a uniquely fun way – the audience is picking up the step sequence by already dancing along. No previous knowledge is required (not even a dance partner). Soon the Yiddish Doina will interact with the Bavarian Zwiefachem, and you will find yourself in the middle of two cultures, fitting together, intertwined. That's intercultural communication at its best!

Dance leaders: Michael Well (D), Steven Weintraub (USA)


Live-Music:
Well-Buam (D)
Karl Well clarinet
Heini Zapf clarinet
Christoph Well trumpet
Michael Well baritone, Tuba
Max Lang accordion
Franz Eimer harp
Yiddish Dance Band (USA/D):
Michael Winograd clarinet
Christian Dawid tuba
Sanne Möricke accordion
David Licht drums