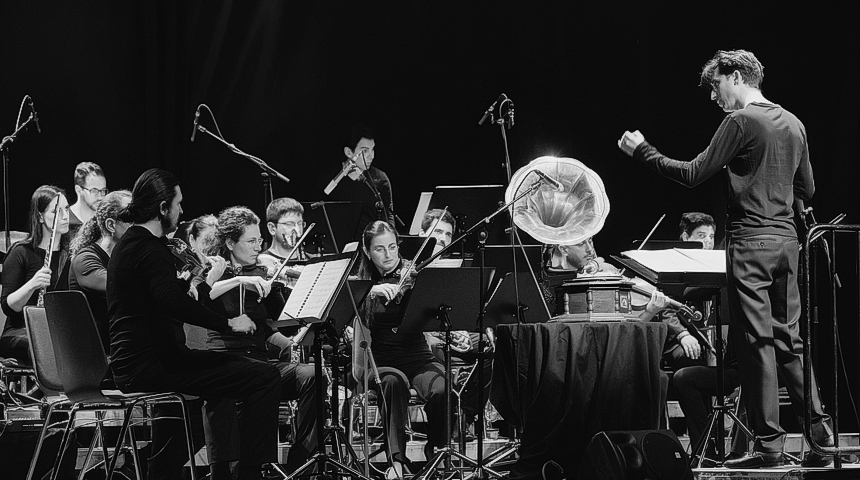 Orchester Jakobsplatz Munich (Germany) with violinist Pawel Zalejski (Poland)
Sunday March 18th / 7.30pm
Stadttheater Fürth
Advance sales from 11 Euros / 8,80 Euros concs. to 29 Euros / 23,20 Euros concs.
At the door: From 11 Euros / 8,80 Euros concs. to 29 Euros / 23,20 Euros concs.

Conductor:
Daniel Grossmann

Introduction to the concert:
7pm in the foyer of the top floor
Program:
Pawel Zalejski: Nigun for Bromberg (2017) for solo violin, German premiere, premiere at Bregenzer Festspiele 2017
Moritz Gagern: Nigunim for Orchestra (2017), commissioned by the OJM

The International Klezmer Festival Fürth is infamous for venturing beyond the known and trusted, so it may not come as a surprise that this year's closing concert breaks with tradition once again. Rather than offering the usual party celebration, the final concert offers a perspective for the development of "Jewish Music Today" whilst remaining true to the Klezmer leitmotif.
The Fürth-based principal violinist of Apollon Musagéte Quartett, Pawel Zalejski, dedicated his composition "Nigun" (Hebrew: melody) to the Jewish community of his home town Bromberg (Poland), which was extinguished by the Nazis. A clear succession of individual melodies tells the story of a once thriving community and the grief following its destruction.
Daniel Grossmann is founder and artistic director of Orchester Jakobsplatz München, which aims to establish an active and vibrant German-Jewish culture. The promotion of new compositions is essential to the OJM, as mouthpiece of contemporary German-Jewish cultural relations. In this context, Moritz Gagern wrote the piece "Nigunim for orchestra", which premiered in May 2017. The composition is a contemporary interpretation of Klezmer music based on accomplished, yet mostly unknown original recordings from the 20s. Inspired by the recordings of famous Klezmorim, Moritz Gagern (born 1973) transformed the crude material into an orchestral version: A voyage through time and space, bringing forgotten soundscapes back to life. Similar to opera structure, the composition is arranged in four acts, from the bachelor party to the wedding including its processions to the feast to the Mizwe (bridal dance).
The OJM is a multinational orchestra, with musicians from over 20 countries and of both Jewish and non-Jewish heritage.