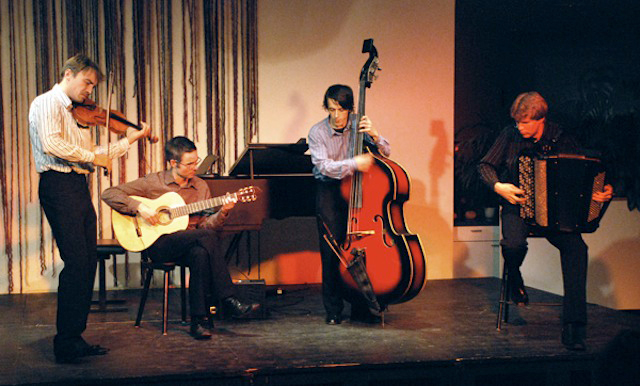 Gitanes Blondes (Germany)
Sunday, 8th March / 7 pm
The church of St. Peter and Paul, Poppenreuth
Advance sales and on the door 24 Euros (plus advance booking fee)
The total cost of tickets may vary slightly from those published due to small additional charges.
Captivating rhythms and world music
These four Munich-based musicians are playing popular classic masterpieces, boldly mixed with an Irish, sometimes Russian, and then again Latin pull. Their fresh interpretation of well-known melodies reveals the essential touch of all Klezmer music: woeful and melancholy, while joyous and full of life at the same time.
Mario Korunic violin
Konstantin Ischenko accordion
Christoph Peters guitar
Simon Ackermann double bass
Veranstalter: Dorfgestaltung Poppenreuth e.V.