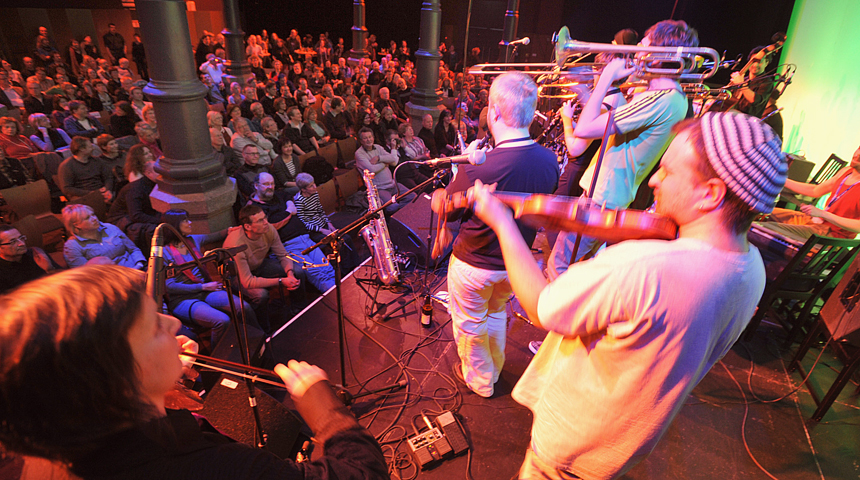 International Klezmer Festival Fürth
Like so many other events, the 17th International Klezmer Festival Fürth was cut short by the corona pandemic. Three days before the official festival finale, the city's Cultural Department had to cancel all remaining festival events. Tickets will be re-imbursed at the ticket agency where they were bought.
The festival opened on Friday 6th March with a fanfare from City Hall's balcony by local band Klezmaniaxx, and welcomed about 1,700 visitors to its concerts, brunches, workshops, films and tours until Wednesday.
Festival under corona shadow from the beginning:
Even before the festival started, the Bavarian-Yiddish Dance Ball "Danzl-Hoyz" had to be cancelled due to the close nature of audience interaction. The Israeli bands Yamma and Jewish Monkeys, as well as Israeli singer (and face of this year's festival) Victoria Hanna, had to call off their trips to Europe due to changed regulations for re-entering their home country upon return from Germany – they would have been put into quarantine. Later in the week, musicians from the United States (Michael Winograd and his band members) hurried home in order to get back in time before their country's travel ban took effect. They had been the backing band for Canadian Singer-Songwriter Geoff Berner, who would have played a one man show, had the festival not been cancelled entirely by the time he stepped on German soil.
The festival's specialty: spontaneous sessions and musical encounters
The other Canadian, Jewish music star Socalled, had already arrived earlier in order to rehearse for the new programme "Mishmashers" with local hero Thilo Wolf – just another stroke of genius: Mixing Yiddish songs with the exquisite sounds of Wolf's famous BigBand! Unfortunately, the festival's highlight show never opened to the public…
The beauty of spontaneous musical sessions and the connection it creates between all involved, even listeners, showed itself particularly on two occasions: During the opening night's late night show, Midwood's violinist Jake Shulman-Ment asked other Klezmer musicians to join him on stage. In no time, Michael Winograd's band – who had played the main show just before – followed the call and the audience witnessed a spontaneuos world class jam session.
Another jam session took place Saturday night when all present musicians joined forces to soften the blow of the cancellation of the very popular Yiddish-Bavarian dance ball "Danzl-Hoyz". There were even some workshop participants as well as spontaneous guests who started dancing Yiddish folk dances.
The serious side of the festival:
For the first time in its history, the festival also took on a clear political stance. Not only did Gerti Köhn, the festival director, advocate civil and moral courage in the face of growing racism and antisemitism in our society. Northern German band Yxalag made migration and cultural interchange the topic of a children's concert called "Milos and the enchanted clarinet", then sang the famous tune "Shalom" together with the audience, later in their evening concert. Shura Lipovsky – grande dame of Yiddish song and a first-time guest in Fürth – also showed political and social commitment not only in her songs and lyrics, but also by being a representative of "musicians without borders", an organization propagating world peace.
The diversity of Klezmer music was once more represented in the festival's line-up: From traditional to modern Klezmer sounds, from Yiddish song to Klezmer-Jazz (brilliantly represented by Swiss Michael Heitzler's Klezmer Band).
German-Jewish rapper, Ben Salomo, was scheduled to present his book and talk about antisemitic tendencies in the rap genre. Unfortunately, this event also had to be cancelled due to corona.
However – the International Klezmer Festival Fuerth carries a very clear message: get together, get to know others, overcome boundaries, sing together, dance together, and celebrate peaceful connection. Even in these difficult days, and even though the festival had to end prematurely, this message prevails.