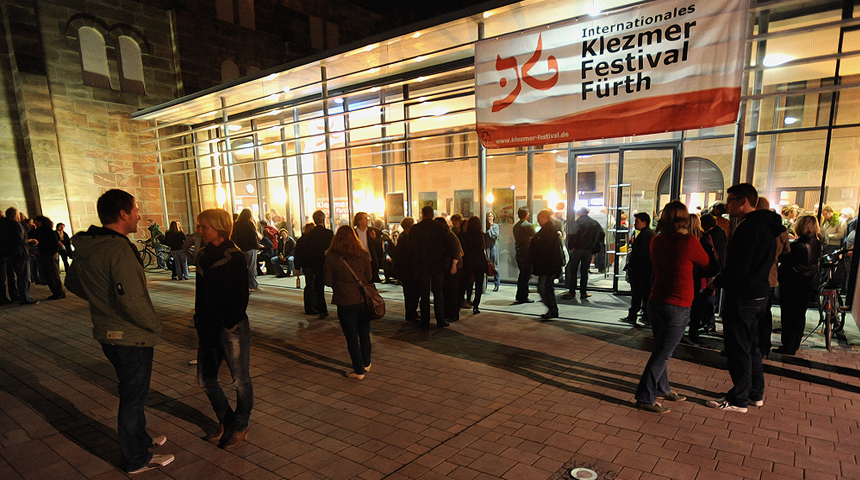 Kulturforum Fürth & Kino Uferpalast
Würzburger Straße 2, 90762 Fürth
Tel. +49 (0)911 / 973 84-0
kulturforum(at)fuerth.de
www.kulturforum-fuerth.de
U-Bahn Line 1 (Stadthalle station) or Buses 172, 175 (Busstop Kulturforum)
Parking: underground car park Stadthalle (access via Rosenstrasse) or car park Scherbsgraben (across from Fürthermare). The underground car park in the former Saturn building is temporarily closed.
The Kulturforum Fürth is barrier-free to a limited extent (no devices for the deaf or hearing impaired). Information on the accessibility of the other venues is available on Tel. (0911) 974 1688.
Stadttheater Fürth
Königstraße 116, 90762 Fürth
stadttheater.de
Kofferfabrik
Lange Straße 81, 90762 Fürth
kofferfabrik.cc
Jewish Museum Franconia
Königstraße 89, 90762 Fürth
besucherservice(at)juedisches-museum.org
juedisches-museum.org
Old Jewish Cemetery
Schlehenstraße
Berolzheimerianum
(Comödie Fürth)
Comödien-Platz 1
comoedie.de/
Synagogue Memorial in the Geleitsgasse
Synagoge IKG Fürth
Blumenstraße 31, 90762 Fürth
Rathaus / Gustavstrasse