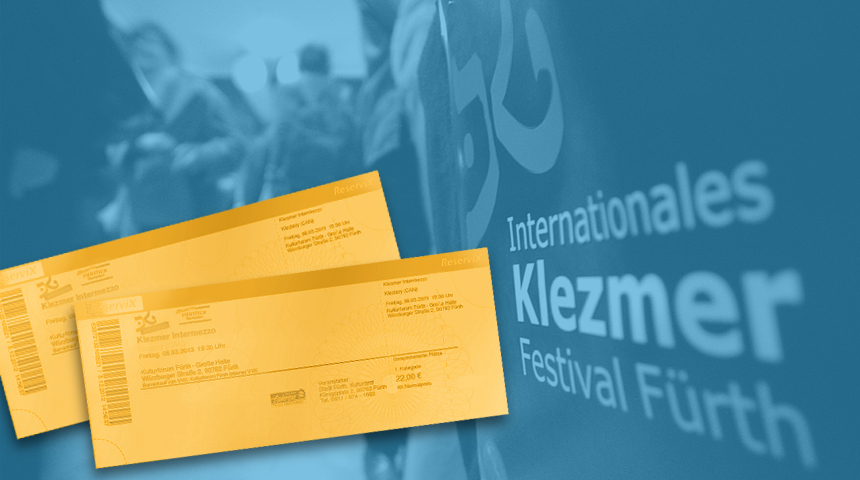 Tickets are available at all the usual advance-sales offices and from www.reservix.de. The ticket office (Abendkasse) opens an hour before the start of each event. Discounts are available for students, officially accredited volunteers, holders of the "Fürth Pass" and people with disabilities (B-Note!), together with an accompanying caretaker. Please note that the prices displayed on advanced tickets (VVK) for concerts at the Kulturforum and at Gasthaus Grüner Baum include administration fees and are not subject to further fees.
Concert tickets display a "Fahren mit der Eintrittskarte" icon. This means that the holder is entitled to one free journey on all local (VGN) services to and from the event. The ticket is valid at any time from 4 hours before the event until the end of service (including Nightliner traffic) on all (2nd class) public transport services in the VGN network area. VGN tariff regulations apply.

NB: "print@home" tickets require personalisation of each ticket (first name, surname, and date of birth of the holder). Only personalised "print@home" tickets are recognized as valid, in conjunction with photo ID.
There is no entitlement to redemption or exchange of unused or unwanted tickets. No guarantee or entitlement to a seat can be given once an event or performance has begun.
The total cost of tickets may vary slightly from those published due to small additional charges.
Returned and unsold tickets are available for purchase at the box office on the day (or evening) of the concert.